The Alsmann Clones
Last Saturday famous German musician and TV-entertainer Goetz Alsmann visited Dresden for a concert. Goetz, whom they call "Goetzimaus" (artificial compound with Goetz and the German word for mouse) is well known for tasteful swing and jazz music as well as for his perky sayings - and for his impressive hair-style and his eyeglasses. That's why the hairdressers Suchomel Bohm (Flashalarm, refuses its service with Flash 7 on a Mac with Safari: - ( and the optics shop Schaulust (Flashalarm, but working) thought it would be a great idea equip customers like the artist and to surprise Goetzimaus with his doubles at the concert hall Alter Schlachthof (old slaughterhouse).
As Goetz and I know each other from those (good? "sure!") old times in our common home town Münster, I thought: A good idea. Of course Birgit and Felix, who also like the varieties of everyday life, joined me for the fun.
The Making of...


The starting position was quite difficult for Jan and Michaela (left picture), whose job was the Goetzification of all hair-styles: The remaining splendour of my hair (right picture) amounts to a few copies only, particularly in the so important region of the forehead. And to make it a bit more complicated for the stylists the average hair length is approximately 5 mm (1/5 inch). Any idea how to make curls with this material? Frank, who as my cutting hairdresser is in part responsible for the shortness of my skalps, and his partner Ralf were in Dusseldorf to win the L'Oréal Colour Trophy - but he had left several wigs for me. Michaela tried the black one, but it appeared to be unsuitable after some attempts to curl the foremost front area. Then we put the blond one on with the result of some very nice pictures and a touch of similarity with the nowadays much thinner Karl Lagerfeld.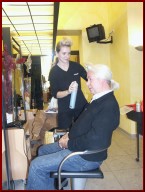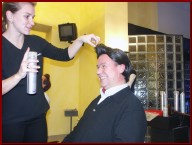 No, I'm definitely not a blonde, and neither is Goetzimaus. So back to the black hair, which Jan beefed up with a little help of a hair pin and another hair extension. The result (sorry, Goetz) was so convincing that a young man made sheep eyes at me. He even and asked for an autograph.
But back into the hairdresser's shop: Felix, who in respect of his hair style looks a little like Frodo, delivered enough material. Birgit changed her appearance with various tools such as a marcel pole (is that the right word? I don't know) and the pffft pffft hairspray. Have a look at mother and son before and during the treatment: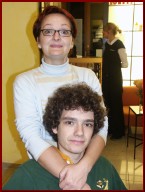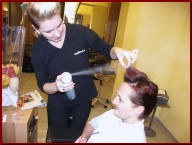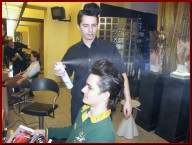 Before the Show
Here we have the perfectly styled family in the vestibule of the concert hall (picture: Andreas Weihs - merci!):


The number of fake Goetzis increased, and when the real Goetz Alsmann, who didn't know anything about the action before, came into the vestibule he was not only surpized but also very pleased rather to see a whole bunch of Goetzimausis. And, surprise surprise: He said yes to a phot shooting just ten minutes before the show should start! Wonderful ten minutes, those ten minutes – and many pictures were taken, of course (this one was taken with my camera by Matthias Schneider, merci!):


The Show
I think the newspapers will write about the show on Monday [update in the morning: here and a picture there].We were prejudiced, of course, but i think it was really a good show. We liked it! Here are some itsy-bitsy impressions: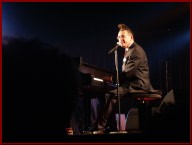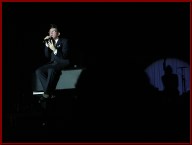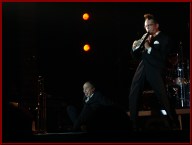 All pictures and some more can be seen here...
Posted by Ulrich at
01:01
|
Comments (6)